Hello all, just wanting to update you a bit on some of the recent developments on Hivelist.io. After some deliberation and feedback from community members, we have decided to make some changes to the Hivelist.io.
First change is that we have discontinued the sign up process and posting through the Hivelist.io. This has caused allot of confusion and is really unnecessary to sign up for another site. Now that Hivelist.org is operational, the posting from the WordPress side has been discontinued. Thanks for everyone that did sign up. Everyone that did sign up should have received the 500 LIST tokens at this point. The point of the WordPress sign up was really going to be a way for us to communicate with the blockchain without having to spend the money for the Nitrous site that we have now. Well, being cheap is not always going to get you further, lol. So now that the Nitrous site is up and running at full steam, then there is no need to confuse people anymore.
We have due to this we have streamlined the front page of Hivelist.io to just the main things we are focusing on.
With the discontinuance of the sign up also comes the discontinuance of the Chat and Discussion area. Now that we have a Discord server we can use that for community communications. All of these changes are now live and also reflected on the menu of Hivelist.org.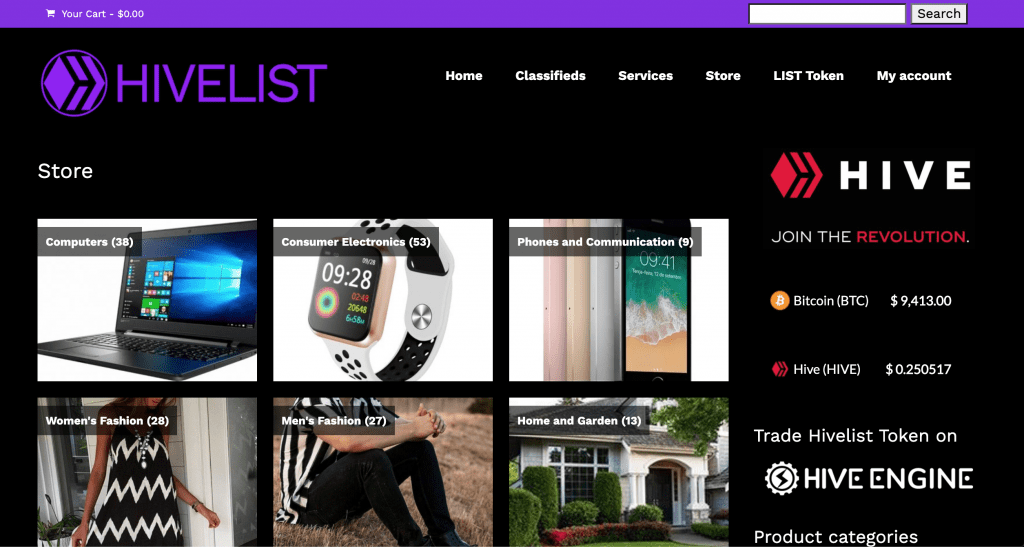 Hivelist.store is also growing daily! We have added some new items and trying to grow the base categories we currently have now to fill them out before moving on to other categories of items.
For full transparency with this site, it is all dropship products from this store, we do not warehouse any inventory. Everything comes from different countries, mainly China, so shipping times may vary. We are trying to find the best everyday kind of items that people will want to buy, trying to move mass adoption over from traditional sites like Amazon or Overstock, but that will take time. We want to know what will be the best things to list going forward, so any insight or idea of items to try and source is always helpful!
We have also done allot of optimization to the site and now using a CDN network to try and speed up the sites performance. It's allot of data, so allot of optimizing has had to be done, but we are now scoring high on all website speedtests.

Anyway, so we are working hard to bring an awesome marketplace to the Hive and HiveCommerce community!
And don't forget, if you want a store of your own, you can check out our Services page for the information. We are offering half off pricing on HiveCommerce websites through the end of July!
And last but not least, our newest endeavor, HiveTunes.io!

We are working to bring a music marketplace to Hive and HiveCommerce! Musicians can list original music they want to sell online and we will be accepting only Hive, HBD, and LIST to start. Other Hive-Engine tokens can be accepted once we figure out what the best music related tokens are available. Any insight into this would be great! We want to support the music communities on Hive! Our founder @thelogicaldude, is a long time DJ, producer, and sound engineer that used to run his own record label for electronic music called Pure Logic Recordings and goes by the artist name Groove Logic (@groove-logic). Having this background really helped open the mental door for the creation of HiveTunes.io.
This site is still under construction, but is coming a long way and will be making some further announcements soon! We will be offering free listing fees through the month of July to assist and attract onboarding for musicians that want to sell their original music.
We have the sales feature down, but working on a donation method to have people be able to tip artists for streaming the music even if they don't purchase it.
In conclusion, we are very excited for the future of Hivelist and Hivetunes and hope you are as well!
Keep Calm and Hive on!
Hivelist Admin