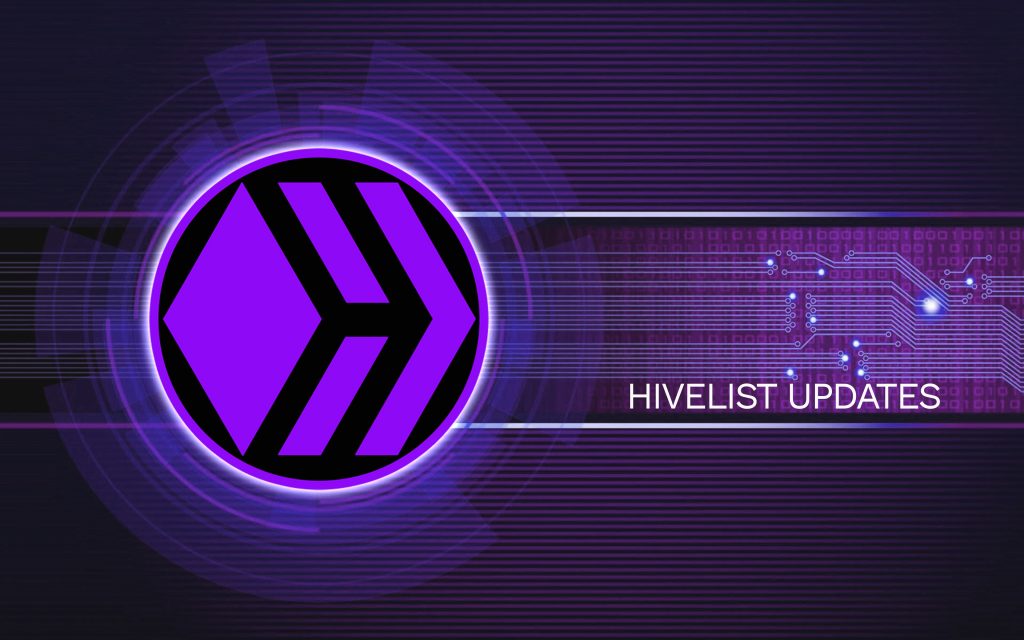 Hello all, it's time for another weekly update from Hivelist! Today we are celebrating some new upgrades and additions to the LIST Staking Club, we are growing slowly but surely! The way I see it, it's a marathon, not a sprint. I am also going to go over some changes to the https://hivelist.org classifieds site, and talk about some new posts that have shown up on Hivelist!
New Additions and Updates to the LIST Staking Club!
This week we had a couple of big upgrades to club levels. Last week, we had a new member come through @merlin7, and this week, this member popped up to the top tier level and gets a 20% off coupon code for all the LIST related stores! Congrats on the upgrade!
Another one of our long faithful members has moved up the ranks as well! @uyobong has also moved up the ranks this week and gets a new 15% off coupon code! Congrats to the both of you and thanks for being a part of the Hivelist family!
So now for the new additions! This week, we had 2 new additions and both of them staked enough to hit our 5% coupon code tier! @alphacore and @dadapizza have both joined the LIST Staking club ranks! Congrats to the both of you!
All new members and upgraded members have been sent their coupon codes via an encrypted HIVE transaction! Use your MEMO key or just use Hive Keychain to reveal it!
Changes to Hivelist.org!
Thanks to the help of the @hive-engine team and @eonwarped, we have made some cool new changes to the Hivelist.org front end. We have added an announcements section which will feature these Hivelist posts as well as any major updates and important information. We will also be offering spots for PROMOTED posts to show up as pinned posts as well. This will cost LIST tokens to promote the post and those tokens will be burned, thus decreasing the supply of LIST. We have also changed up and added some new categories on the site. Of course the first 7 tags are the 7 that will get your post to Hivelist and are the top categories. Everything else is descriptive and will show in those categories.
For example: Say you have some new NFT art on @nftshowroom or some photography on @lensy that you want to sell. Well on your Hivelist post, you would make sure to use at least the following tags: forsale, nft, art. The 'forsale' tag will get your post to the Hivelist community and start earning you LIST. The nft, and art tags are descriptive tags and will show up under those categories.
Another example is you are a developer offering your services, you will use the tags: services, programmer, developer. The services tag is the one that will get you to Hivelist, the others are descriptive tags that will sort your post to the proper categories! It is going to take all users to get the search and categories correct.
The category list is as follows (the top 7 are the LIST activator tags, use one or multiple):
hivelist
classifieds
hivecommerce
forsale
services
contests
gigs
jobs
NFT
art
ebooks
handmade
clothing
electronics
household
collectibles
personals
charity
insearchof
workfromhome
marketing
consulting
graphics
designer
developer
programmer
hivehustlers
Some Posts of the Week for Hivelist.org
This week we say allot of activity with people trying to sell items on the Hivelist classifieds platform!
This week @nulledgh0st listed up his entire dCity city and it was sold!
https://www.hivelist.org/hivelist/@nulledgh0st/for-sale-my-nearly-top-100-dcity-rank-105-let-s-negotiate
@hiveswag posted a listing trying to get buyers for a group buy of some custom wallets, go check out the post if you are interested on getting into this deal:
https://www.hivelist.org/hive-183630/@hiveswag/hiveswag-hosting-our-1st-custom-hive-phone-sticky-wallets-the-more-people-that-join-the-cheaper-they-get
@deuceman put up several pieces of physical artwork that he has for sale, there are some great pieces here, this is one example:
https://www.hivelist.org/hivelist/@deuceman/for-sale-250-hive-or-50-hbd
We also put a post talking about some of the new digital downloads that are available on the Hivelist.store.
https://www.hivelist.org/hive-150840/@hivelist/newebooksforsaleonthehiveliststore-uqwk5xsgyd
So that is pretty much it for the week! WE greatly appreciate all the love we are getting on Twitter and other avenues as well! Keep up the good work team! We will together make HiveCommerce come alive!